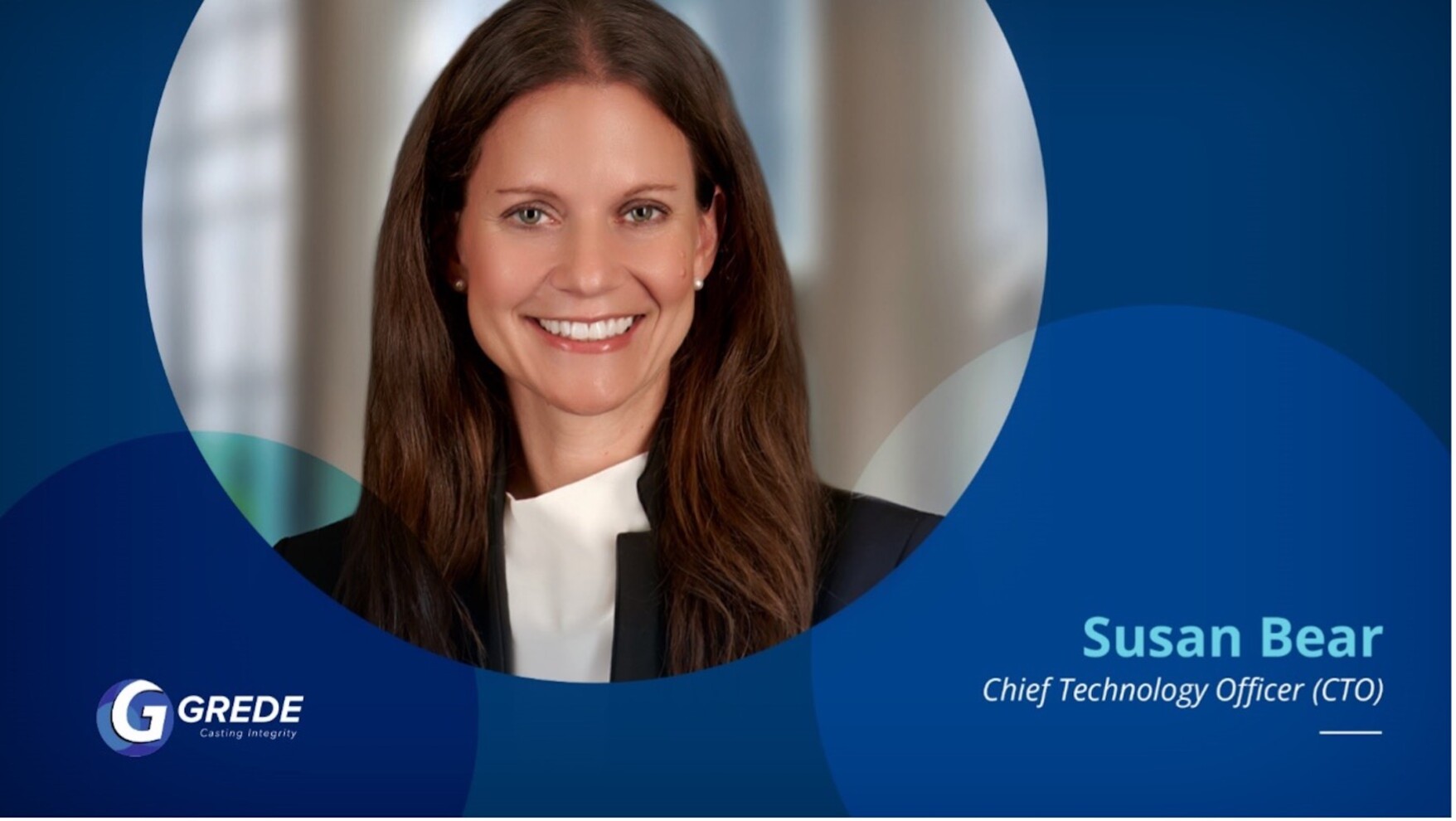 Grede's Susan Bear Receives Women in Metalcasting Award for Excellence by the American Foundry Society
March 20, 2023
Grede, America's leading provider of highly engineered casted solutions, today announced that Chief Technology Officer Susan Bear received the Women in Metalcasting Award for Excellence from the American Foundry Society.
The 2023 award honors one exceptional leader, champion, mentor, or role model for women in the metalcasting industry. 
Susan is a seasoned leader who joined Grede in July 2018 as the Director of Engineering and was promoted to CTO in October 2022. She leads Grede's engineering, quality, and program management functions and is known for modernizing Grede's approach to technology and engineering. 
"Susan has been a driving force behind Grede's organizational transformation from the 'art of the foundry' to the 'science of iron casting,' with a focus on Industry 4.0, the Internet of Things (IoT), and process enhancements supported by real-time data. She is adaptable, collegial, and proactive and demonstrates a willingness to support Grede in any way possible. Susan is a true changemaker, and we're delighted that the American Foundry Society has recognized her for making a lasting impact in the metalcasting industry." – Cary Wood, CEO at Grede.
Susan will be honored at the Women in Metalcasting Breakfast during the 2023 Metalcasting Congress on April 26 in Cleveland, Ohio.  
Grede is a proud sponsor of Women in Metalcasting, a shared interest group by the American Foundry Society. Women in Metalcasting provides a platform for women in the industry to develop avenues for networking, mentorship and sharing ideas, experiences, and best practices that will benefit members professionally and personally.  
About Grede 
Grede is America's premier provider of highly engineered casted solutions. Grede serves approximately 300 customers with 11 locations and 3,000 employees. The company is headquartered in Southfield, Mich., USA. Visit grede.com for more information, and connect with Grede on Facebook, LinkedIn, Instagram, and Vimeo.  
Media Contact 
Stephanie Frazho
Stephanie.Frazho@grede.com
248.440.9507