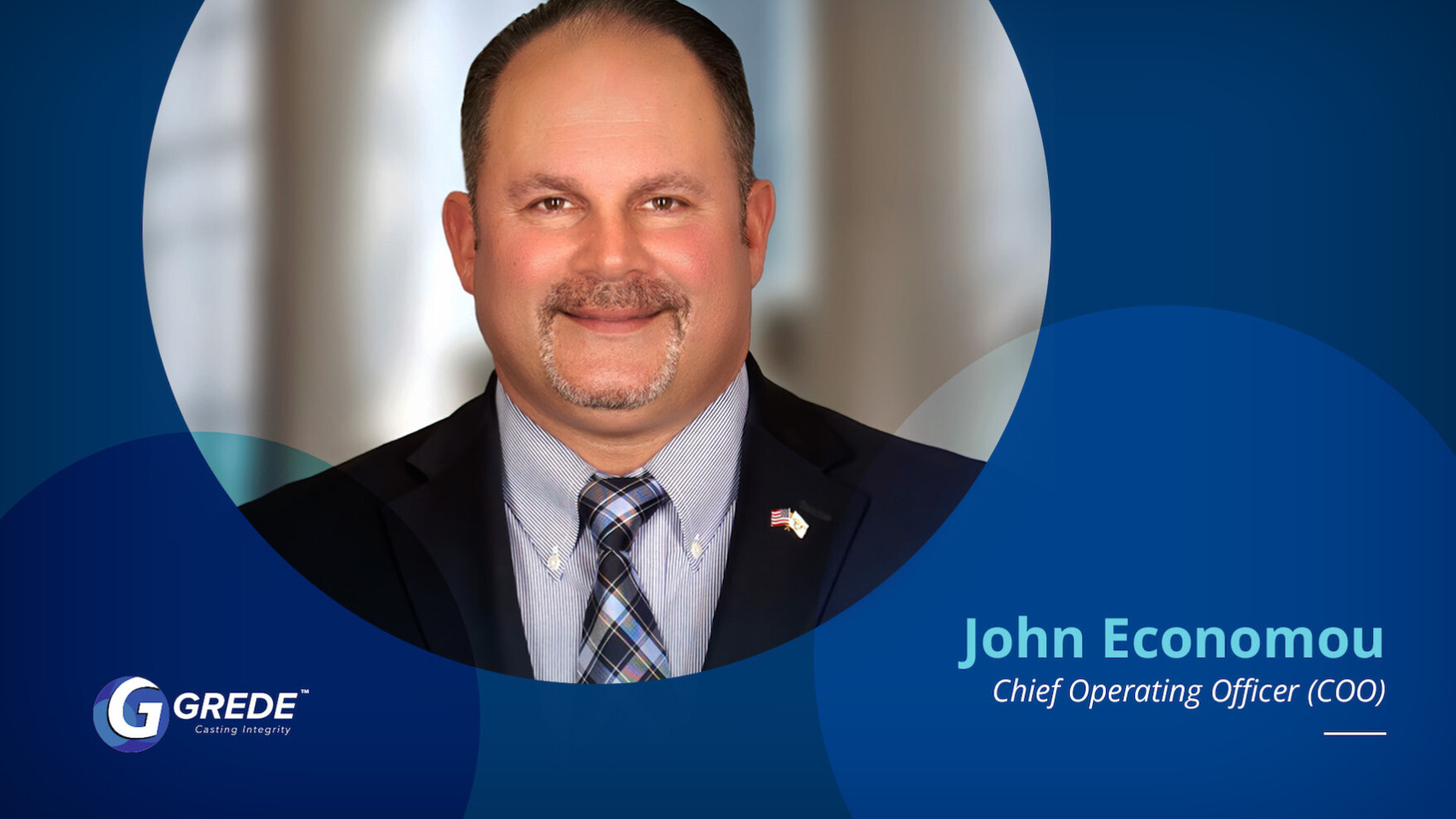 Get to Know John Economou
February 6, 2023
John Economou (it's pronounced like "economy" — just a tiny change at the end, "econo-mo") joined Grede in November as our new COO. John has over 25 years of experience leading operations for aluminum die casting, complex machining, stamping, welding and assembly of many powertrain components. John specializes in implementing standards, processes, and systems to drive operational improvements that support the achievement of KPIs and financial objectives.
He served in the United States Army for four years as a company executive officer and platoon leader. He has a Bachelor of Science in mechanical engineering from the United States Military Academy in West Point, NY.
What's the most rewarding thing you've done in your career?
"The two most rewarding experiences in my career were when I relocated internationally.
"First, I helped launch the Ford Explorer and moved to Bordeaux, France, for three years, where I applied my six years of schooling in French. Second, I moved my family to Guanajuato, Mexico, running two plants for AAM for three years and winning the gold trophy Shingo Prize for lean manufacturing. I traded my French for Spanish and learned a new language.
"Both experiences opened my eyes to how other cultures live and value things in life. It was enlightening professionally and personally, having developed some great relationships along the way."
What's the most important thing that you're bringing to Grede?
"I'm bringing high operational excellence and leadership to Grede. It all comes down to continuous improvement — it's essential to understand where we're winning and losing. From there, we can make simple action plans to move the needle together as a team.
"I'm impressed by what I see in many of the plants at Grede. There are plants on a great path toward excellence; we must all focus on our daily roles and responsibilities and strive for excellence.
"In my experience, some organizations over-complicate operational improvement. They have many lists of things to do, and people can get lost and can't determine what to prioritize. I've found that people get better when focused on the things that matter, so they don't get distracted.
"It's often crucial that leadership drives a strong focus on the areas of most importance and then focus the team on developing detailed action plans to get it done. It sounds easy, but it's often easier to get distracted by daily firefighting and forget to regroup on the most critical projects that will move the plant forward."
What does Grede's future look like to you?
"Our future is dependent on growth. If you're not growing, you're dying. To succeed, we need to be ready to take on new jobs and understand how to accomplish them at a higher rate and quality than our competition.
"Another part of my initial responsibility is getting closer to our sales team and figuring out which new customers and jobs to take on that fit our plants and processes the best. Meeting market pricing is a result of driving continuous improvement through our plants. We must get aggressive and be prepared to reduce or meet costs to win work. We compete with low-cost countries, but they have seen a considerable increase in shipping costs after the pandemic. Now is the time to go on the offense."
Do you have a family?
"Yes, I have a wife (Kimberly), two sons, George (22) and John (20), and one daughter, Julia (18)."
Are you relocating?
"Yes, once my daughter completes her senior year of high school, we plan to relocate from Indiana to Michigan. I grew up in Michigan. It's a part of the reason I took the job. I'm happy to be moving back home to Michigan soon. That, and the combination of the company size and my experience, made Grede a perfect fit and the right move for me."
You have 45 minutes of spare time of free time. What do you do?
"I love seeing my daughter play basketball. It's basketball season, so most of my spare time is spent either out in the yard or watching her play basketball and travel for competitions."
What's your commitment to Grede?
"My commitment is to our people. I'm committed to being a selfless servant leader focused on growth and operational excellence."