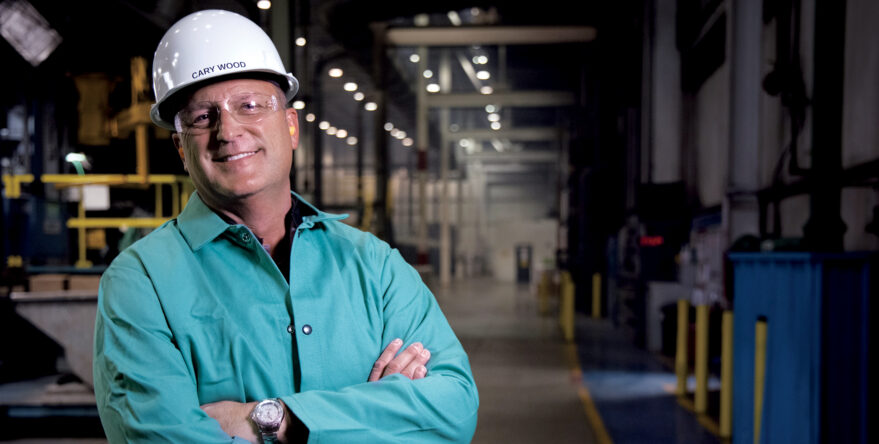 2022 Metal Casting Industry Outlook — Grede CEO Shares Challenges, Opportunities
February 2, 2022
In the spring of 2020, as we were entering what would become the global Covid-19 pandemic, the situation facing the metal casting industry looked bleak. Now, nearly two years later, 2021 proved more challenging in many ways than 2020.
Three Obstacles the Industry Overcame
Looking back, three challenges rise to the top of the issues the industry faced in 2021 — supply chain issues, labor scarcity and ballooning inflation.
Supply Chain Stumble
When the world came to an abrupt halt at the height of the pandemic, foundries made the painful decision to idle production in order to survive the storm.
Last year, though we were back and open for business, we had to weather supply chain issues that began at the onset of the pandemic but didn't reach their full impact point until 2021.
Automotive and, to some extent, the trucking sector were impacted by microchip shortages that were many months in the making. That shortage led to reduced demand, shifting demand and market disruption. This whipsaw effect trickled out across the industry and wreaked havoc on the supply chain — including foundries like Grede.
Eventually, the chip capacity issue will be resolved. In fact, if pundits are accurate, things should start to improve by the second half of this calendar year. Eventually, a glut of capacity will likely come online and solve the chip issue once and for all.
While the auto sector was quick to ramp up in the third quarter of 2020, mostly due to pre-existing inventory, that increased demand was short-lived. When that inventory was exhausted and supply chain issues started to rear their head, we saw the ugly whipsaw effects on the entire industry — resulting in starts and stops, sudden order changes and abrupt drops in demand. This describes almost all of 2021.
All indicators point to robust demand right around the corner, but we are still waiting to see it. Meanwhile, the industry at large is, like many others, experiencing labor scarcity.
Labor Scarcity
For those who want to work in the metal casting industry, current opportunities are advantageous. Personally, I am both grateful and impressed by the loyalty and work ethic of Grede employees.
Over the course of many challenging months, they showed up every day and demonstrated an exceptional work ethic and dedication to excellence. While one of our biggest challenges in 2021 was adding more people to meet increased production demands, the culture of our workforce enabled us to thrive.
When considering the industry at large, there has been unprecedented inflation pressure on labor over the past 12 months.
We have heard the term the "Great Resignation" or the "big quit," where members of the eligible workforce have decided to make career changes. Driven by Covid concerns and federal stimulus monies, unprecedented numbers of people have stayed out of the workforce or changed jobs.
As market demands return, there aren't enough workers to meet them. Hotels, restaurants, retailers and manufacturers are all struggling to employ the workers needed to handle the pent-up demand that exists. What's even worse, it is anticipated that the demand is going to increase substantially over the next 12 to 24 months.
This fundamental flip in the relationship between supply of employees and demand for labor has fueled inflation. We see these costs in the materials we buy and the services we contract. This brings me to my third point, inflation.
Impending, Then Ballooning, Inflation
Inflation rates over the last decade have been stable and even predictable in the 1% to 2% range. Yet various economic indicators suggest that December peaked at over 7% inflation. As high as 7% is to digest, we have seen some of our materials go even higher. In some cases, we are now seeing 20% and 30% increases due to inflation!
While some in the federal government have referred to the latest spike as "transitory," meaning this could come and then revert, I am not so optimistic.
Our industry will collectively face the need to address this problem with our customers. Alloys, fuel, utilities, labor, outside service — the list doesn't seem to exempt anything going into the costs of our product. With fixed price contracts, the industry will have to get creative in how it addresses this challenge.
In the meantime, Grede is focusing on maximizing what we can control. We are looking to lean out production and work efficiently, leaning on engineering expertise to engineer in and out solutions, and pressing on our continuous improvement initiatives to identify opportunities to remove costs, such as through investing in automation.
A Brief Look Ahead Provides Cause for Optimism
Despite the recent headwinds, there is good reason for optimism for what this year holds.
We are expecting that North American vehicle output will be up 15% to 20% over 2021 levels. Two and a half million more vehicles are anticipated to be produced this year. Barring any major supply chain issues, we will see significant demand increases, particularly in the back half of the year.
Our first half could be choppy as the industry continues to find its footing. Commercial vehicle demand is anticipated to be up by almost 15 %. Agriculture and industrial off-road vehicles are showing anticipated increases in demand as well.
Beyond this year, both 2023 and 2024 are expected to increase year-over-year to nearly 18 million vehicles, or an increase of nearly 40% from the lows of 2020 and 2021. We fully expect automakers to work furiously to replace diminished inventory levels they've been burning through for the past year.
In short, a significant opportunity is approaching for foundries that are prepared to meet it. Reinvestments made into foundries over the past 18 months will pay off with an improved ability to support the increased demand when it arrives.
In the tightening market, foundries with versatility to provide support for a range of end markets, sizes and design support will have an advantage.
Those that can reduce total cycle times while accommodating varying metal grades and size of parts from an optimal geography are best positioned to succeed.
Grede Positioned To Succeed in Tightening Market
Grede is one such foundry. Reinvestments into our business have put us in a favorable position. Our capital structure allows us to think longer term and take calculated risks over the next two years to leverage market dynamics to the benefit of our business.
Our ability to accommodate increased demand is owed to the following factors, which we have cultivated at Grede:
E-mobility and lightweighting capabilities
Unique ability to engineer casting designs for our customers
Ability to reduce time to develop new castings and minimize pattern investment
Versatility to support a range of end markets
Automation and modernization strategy
Capital deployment and reinvestment strategy
Already-implemented additive manufacturing capabilities to create more precise, larger and higher quality components
Electric vehicle efforts
A fairly aggressive capital deployment and reinvestment strategy over the next 12 to 18 months will position us ahead at a time when liquidity across the competitive landscape is tightening.
This positioning says much about who Grede is — our culture, including the work ethic and ingenuity of our people, is the reason for our resiliency and the source of my optimism. Our ownership structure and capital deployment have positioned us for continued growth and profitability.
As we look ahead to 2022, I have reason for excitement about what the future holds.